Friendly, Dedicated People, Wonderful Horses
Good Times, Great Care.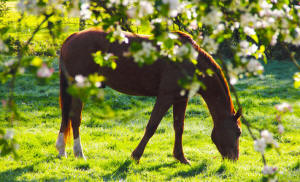 It looks like spring in New England may be just around the corner. The winds and rains of late March and early April will soon be a memory. Green grass is slowly showing up on the fields and we expect to hear the spring "peepers" singing their song any day now. At the farm, we are gearing up for the spring season and look forward to spending more outdoor time with our friends, boarders and students.
Testimonials:
Diane is a mind reader. She knows instinctively exacty what each student requires to be successful. From energetic encouragement to quiet, one-word reminders, her technique matches the needs of her student. Need to lighten up? Diane will coax a chuckle out of you...
To read more, check out our testimonials page to see what our clients think of us.
---
Owned and operated by Diane and Chris Caverly, Sunswept Stables reflects a warm, family like atmosphere, while providing superb professional care and instruction.
Sunswept Stables is located on the south side of Dover, New Hampshire, close to UNH-Durham, Portsmouth NH and Rte 95 and 16. Situated next to 400 acres of conservation land our location offers beautiful fields and forest to view and enjoy, while spending time with the horses; riding, driving or just hanging out !

---
---



Please make yourself at home on our site.
Feel free to contact us.
We will be happy to talk with you.

We have tried to give you a snapshot of the services we have to offer here at Sunswept Stables.

We know that you will have questions about our facility, our programs and our philosophy.
Since 1988, Sunswept Stables has offered training and boarding for pleasure and show horses, as well as lessons for beginner to advanced levels in pleasure or show riding and driving.

Although we have made a name training and boarding Saddlebreds, Morgans and Hackney Ponies, we welcome all breeds and disciplines to our stable.
Everyone can benefit from the training and boarding services we have to offer and from our hands on approach.